On Tour - Rockwell Automation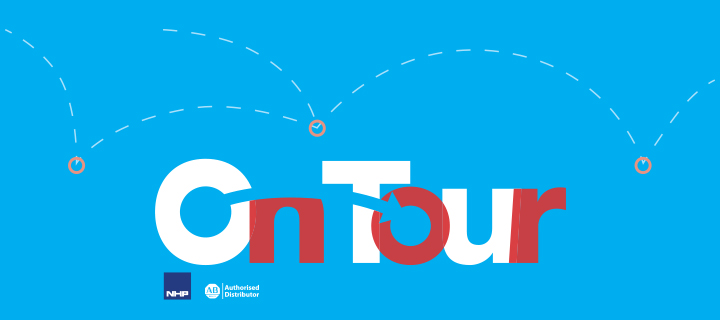 The On Tour program is run by NHP Electrical Engineering Products across Australia and New Zealand with support from our exclusive distribution partner Rockwell Automation.
The program offers a range of FREE hands-on labs and detailed presentations focusing on Allen-Bradley products, as well as giving participants practical experience with NHP's product and solutions offerings.
Upcoming On Tours include:
Experience the benefits of configuring smart components into an Integrated Architecture System
This hands-on lab experience provides a preview of the Allen-Bradley E300 Electronic Overload Relay's capabilities with Ethernet/IP communications. You will learn how to configure the E300 using Rockwell Software Studio 5000, which enhances your user experience and reduces development time.
Discover how to reliably setup and integrate your Ethernet I/P Network
Learn how to integrate Allen-Bradley Stratix switches and Ethernet/IP devices into your plant network to improve reliability, manageability and overall ease of use. With this hands-on experience you will become familiar with Stratix 5700 hardware features, management and diagnostics tools such as the Device Manager, the Studio 5000 Add-On Profiles (AOP), we will introduce you to the FactoryTalk View faceplates and experience configuration and diagnostics of a Device Level Ring (DLR) Topology.
Discover how a modern HMI offering will increase your productivity
Learn how easy it is to create and test your next generation HMI project using the new Studio 5000 View Designer software. This hands-on experience will introduce you to topics such as setting up a project, creating screens, animating graphic elements, configuring basic security, taking advantage of pre-defined project content and will also cover new features such as data logging and historical trending, VNC, PDF viewer, and emulate.
This session will also introduce the next generation Allen-Bradley FLEX 5000 I/O and the Allen-Bradley Compact GuardLogix 5380 Controller.
Discover how to Integrate your Variable Speed Drive on Ethernet I/P
Learn how to configure Allen-Bradley PowerFlex AC drives. From the built-in human interface module, to Connected Components Workbench software or the Rockwell Software Studio 5000 Logix Designer, we can help enhance your user experience and reduce development time. Learn how Automatic Device Configuration can help save you valuable time to get your machines back online faster.
Discover how a Smart Safety solution can help increase productivity
Intelligent devices help improve insight into machinery operation and worker behaviours, while providing feedback on system performance to help reduce downtime. In this hands-on experience, you will learn how to program safety devices and manage design requirements for integrating additional CIP Safety enabled devices, and the impact to the safety integrity of the system.
For more information please contact your local sales support or complete the contact form below.
On Tour - Register your interest
Please fill in the form below and we will get back to you as soon as we can